We all know Mum, Grandma, Muriel, Mu, Moey in different ways and have our own special memories.

In preparing what to say in this eulogy I remembered a conversation we had about this time last year. Mum had been to the hospital for one of her appointments and this time she was reunited with a big stack of her medical records going back to the 1960's.

The nurses had found the archive of notes fascinating. But in our chat Mum said she felt really strongly that she didn't want to be defined by that stack of medical notes.

She said to me "I've lived a full life. Next time I go in I want to take some pictures with me to show the nurses that I've really lived and what I've done over the past fifty years."

So that's what I'm going to help Mum show you – through some of my memories about her full life.

Sewing & Making Things
When I think about family time with Mum I think about the Morning Room at home. This is where everything happened and where the sewing machine lived. Mum was brilliant at making things and the sewing machine was a big part of that.

I have to mention the Morning Room curtains. Growing up in the 70's they were regularly changing – Mum would get a remnant of bright bold material from the market and quickly run up a new pair of curtains. Then after what seemed like just a few months later, she'd do the same again.

It was the same with clothes. Collette and I would show her fashion sketches in Jackie magazine and next day Mum would run up a trendy new gypsy skirt or dress for us on her sewing machine.

In the Morning Room we also made lots of 'Blue Peter' style things together - anything from fluffy gonks through to a toy made out of a margarine tub and cotton reels. Mum made family life fun and she was very creative.

Sugar Craft and Teaching
As a teenager I remember going to night school classes together – Mum did flower arranging while I was next door doing woodwork. Mum loved flowers and for many years she was one of the volunteers on the flower rota doing arrangements in this church, ably supported by Dad.

That brings me to the other thing that used to happen in the Morning Room … cake decorating.

Following on from the flower arranging classes Mum went on to take lessons in how to make sugar paste flowers. This led to her entering exhibitions with her class mates. Then her friends and family managed to persuade Mum to share her skills and teach sugar craft and cake making.

I was so proud when Mum did this especially when she told me stories of how she handled some of the cheeky young lads at catering school while teacher training. I know she was chuffed to bits to be working and made lots of good friends.

She was very talented in her craft and enjoyed making sugar flowers very much. I remember the night before Collette and John's wedding she had stayed up all through the night making beautiful delicate sugar paste bluebells for their cake. I scolded her in the morning for not getting any sleep and she simply said "I don't care, I've enjoyed myself."

So I hope you will agree with Mum that she lived a very full life and enjoyed herself... and you will remember her that way… as she wanted you to.


Do you need someone to talk to about grieving?
Have you considered online grief counseling?
Private, one to one, anytime, anywhere, help with grief
In the interests of transparency, this information about online grief counseling and support is sponsored by BetterHelp. When a person signs up for counseling from write-out-loud.com I receive a commission for providing the link enabling the connection.*
Grieving is a zig, zag, slip, sliding journey.
Some days it can be hard to eat, to breathe, sleep, brush your hair, get out of bed, get dressed, answer your phone, have a shower or, go to work.
Finding a reason, or the energy, to do things you once regarded as so ordinary you did them without thinking, is tough. Especially when you feel alone. 
Is this you? 
Online counseling can offer the support you need.
Despite what well-meaning friends or family might tell you there are no "right" ways to grieve. And neither are there "right" stages which everyone must pass through in a "right" sequence.
When you meet with an online grief counselor you will be understood, and carefully guided towards finding a way forward.
Just fill out the online questionnaire and within minutes you will be assigned the professional grief counselor most suitable for your needs. You don't even have to use your own name if you don't want to.
You'll pay an affordable fee set according to the length of the subscription plan you choose.
Access your counselor whenever you want via chat, messaging, video or phone.
Or find out more about

how online grief counseling works

.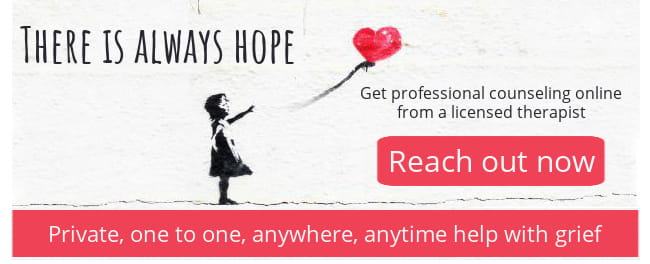 * Read independent BetterHelp customer reviews on TrustPilot.