Eulogy Poem for Mother
by Sharon Catley
(Canada)
A rainbow of hope
The funeral or eulogy poem below was written by Canadian poet Sharon Catley to honor her mother Alberta Stoley.
She kindly sent it with the thought that others may like to use it. If you do please acknowledge her as its writer.
Journey's End
REST YOUR HEAD, MY WEARY TRAVELLER
THIS EARTHLY JOURNEY IS AT END
SAY GOODBYE TO THOSE WHO'LL MOURN YOU
AQUAINTANCE, FAMILY, FRIEND
STEADFAST WIFE AND NOBLE MOTHER
ALL YOUR DUTIES ARE COMPLETE
YOUR REWARD A NEW ADVENTURE
TAKE THIS GIFT AND BE AT PEACE
LEAVE BEHIND THE TEARS OF LOVED ONES
LAY YOUR HEAVY BURDEN DOWN
CAST ASIDE YOUR WORN OUT BODY
PAIN AND SUFFERING NOW BEGONE
JUST AHEAD SOMEONE IS WAITING
WHO HAS PASSED THROUGH HEAVEN'S DOOR
ANTICIPATING YOUR ARRIVAL
A CELEBRATION IS IN STORE
PREPARE TO STEP BEYOND THE CURTAIN
SEPARATING LIFE FROM DEATH
ANSWERS TO ALL OF LIFE'S MYSTERIES
THIS AND MORE YOU SHALL POSSESS
THOUGHTS OF YOU WILL BRING US COMFORT
YOU'RE IN OUR HEARTS, YOU ARE NOT GONE
AND IN OUR TIME WE'LL COME TO JOIN YOU
ONE LAST FAREWELL AND JOURNEY ON
Do you need someone to talk to about grieving?
Have you considered online grief counseling?
Private, one to one, anytime, anywhere, help with grief
In the interests of transparency, before I go on, this information about online grief counseling and support is sponsored by BetterHelp. When a person signs up for counseling from write-out-loud.com I receive a commission for providing the link enabling the connection.*
Grieving is a zig, zag, slip, sliding journey.
Some days it can be hard to eat, to breathe, sleep, brush your hair, get out of bed, get dressed, answer your phone, have a shower or, go to work.
Finding a reason, or the energy, to do things you once regarded as so ordinary you did them without thinking, is tough. Especially when you feel alone. 
Is this you? 
Online counseling can offer the support you need.
Despite what well-meaning friends or family might tell you there are no "right" ways to grieve. And neither are there "right" stages which everyone must pass through in a "right" sequence.
When you meet with an online grief counselor you will be understood, and carefully guided towards finding a way forward.
Just fill out the online questionnaire and within minutes you will be assigned the professional grief counselor most suitable for your needs. You don't even have to use your own name if you don't want to.
You'll pay an affordable fee set according to the length of the subscription plan you choose.
Access your counselor whenever you want via chat, messaging, video or phone.
Or find out more about

how online grief counseling works

.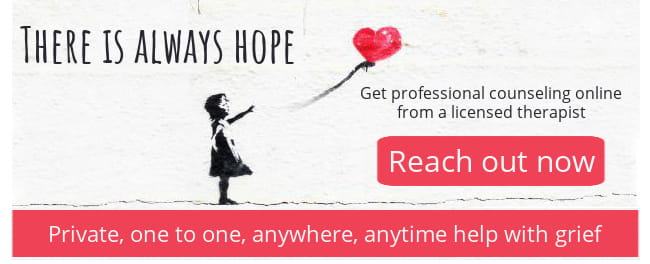 * Read independent BetterHelp customer reviews on TrustPilot.