My Mother's Eulogy
by Aimee
(Denver, CO)
I feel as though I could write a book regarding my mother's life so I will do my best to make this brief.
My mother was a very sensitive and compassionate person. She loved her family, friends, colleagues, clients and students very deeply. Sometimes she stuck her nose into things that were none of her business, but I know her motives were never malicious. She had the gift of gab and somehow was able to have complete strangers share their life story with her within their very first conversations – she truly had a compassionate, open heart.
I remember the days when we lived on Locust and our whole neighborhood was like family. Mom had an open door policy whether it was the neighbors walking in for sugar or eggs, or the neighborhood kids coming to her for advice and shelter. She always loved the children – including her brothers, sisters, cousins, nieces, nephews and her grandchildren. And I believe as the oldest she felt the need to take care of everyone though it was not always her responsibility.
I don't know how she managed to raise a family, return to college and receive a double major and double minor, still cook for us, and show up to all our activities. She exposed us to diverse experiences including sports, the arts, and a world of possibilities.
We were taught strong values and the importance of family, faith, hard work, kindness, tolerance, generosity, forgiveness and love.
She was a strong woman, stubborn, gentle but direct and had an amazing sense of humor.
The last 3 or 4 years were hard for mom with the return of her breast cancer and the other illnesses she coped with. I know she is at peace now.
June 7th would have marked my parent's 50th Wedding Anniversary and we know that love & marriage is not always an easy commitment. I treasure all the wonderful loving memories and exchanges that my parents shared.
We have lost many family members and friends over the years, especially in the last few, but I am comforted by the fact that mom is in heaven sharing her gift of gab and continuing her legacy of sticking her nose in everyone's business.
I hope & pray that our generation can continue the passion and love of family that you all have shared with us.
Do you need someone to talk to about grieving?
Have you considered online grief counseling?
Private, one to one, anytime, anywhere, help with grief
In the interests of transparency, this information about online grief counseling and support is sponsored by BetterHelp. When a person signs up for counseling from write-out-loud.com I receive a commission for providing the link enabling the connection.*
Grieving is a zig, zag, slip, sliding journey.
Some days it can be hard to eat, to breathe, sleep, brush your hair, get out of bed, get dressed, answer your phone, have a shower or, go to work.
Finding a reason, or the energy, to do things you once regarded as so ordinary you did them without thinking, is tough. Especially when you feel alone. 
Is this you? 
Online counseling can offer the support you need.
Despite what well-meaning friends or family might tell you there are no "right" ways to grieve. And neither are there "right" stages which everyone must pass through in a "right" sequence.
When you meet with an online grief counselor you will be understood, and carefully guided towards finding a way forward.
Just fill out the online questionnaire and within minutes you will be assigned the professional grief counselor most suitable for your needs. You don't even have to use your own name if you don't want to.
You'll pay an affordable fee set according to the length of the subscription plan you choose.
Access your counselor whenever you want via chat, messaging, video or phone.
Or find out more about

how online grief counseling works

.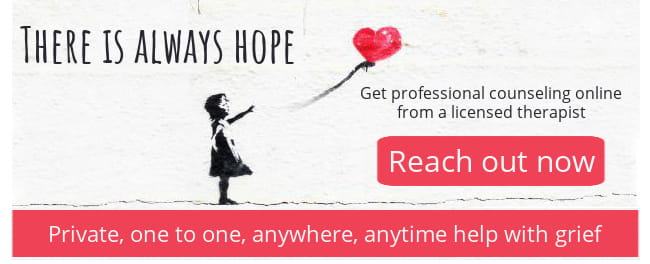 * Read independent BetterHelp customer reviews on TrustPilot.