My mother's legacy
by Michelle Siraco
(Kennsaw, Georgia)
Karen Siraco
Thank you for being here to celebrate the beautiful life of my beloved mother Karen Siraco. My name is Michelle and I am the twin sister of Danielle and older sister of Austin. My mother had three children, whom she loved with every ounce of her being. She told us we were her greatest gifts.

My mother was born in Canton, Ohio and was the second of four girls. She and her three sisters grew up for the most part in New Jersey where she attended Westfield Highschool.

My mother was a wild child to say the least and fell pregnant at 21 with "the twins". She was living with my father in Mobile, Alabama at the time and had no idea she was expecting twins until our birth.

Mom did not receive any prenatal care until she was asked by my grandparents to return to New Jersey so they could help with the baby while she went to college. In her final month of pregnancy she took their advice and moved back.

On July 18, 1980, my mother gave birth to not ONE girl, but TWO! I remember Mom saying she immediately thought, "Dear God, please take one away. Not two babies!" I know she was only joking but she was scared at that moment! Fortunately Mom had plenty of help raising my sister and I from her three sisters and my grandparents right through our childhood.

My little brother Austin was born to my Mom and Dad in 1992 when we were 12 years old. (That's a long story!) Although we wanted a sister not a brother, we were happy to welcome a sibling into our hectic lives.

My mother unfortunately struggled with drug addiction since her early 20's. She was arrested multiple times and served different amounts of time in different jail facilities. She tried drug treatment programs, inpatient rehab, half way housing, transitional housing, NA meetings and although she struggled with consistent sobriety, she was well known by family and friends as having a genuine heart.

My mother was not always in my life but she tried. I understood early on about the disease of addiction and was able to forgive her for her absence in my early childhood years. I thanked her for the past 7-8 years reminding her that she has been there for me both as a mother and a wonderful GiGi to her grandchildren.

My mother taught me: how to be caring, affectionate, forgiving and empathetic towards others, especially for those in need. She worked as a LPN for a few years and was a natural caregiver. She was a very sensitive and compassionate person. She loved her family and friends deeply. She had the "gift of gab and somehow was able to have complete strangers share their life story with her within their very first conversations. She truly had a compassionate heart.

I have tremendous gratitude for the past year. I was able to spend time with her after her being diagnosed with Stage V Small Cell Lung Carcinoma. We were very open with one another- sharing our feelings, laughing, crying and bickering here and there. The conversations and closure we were able to have were a gift. She was a true fighter and her incredible tenacity showed up in her strong will to live with this terrible disease and she fought so hard that she lived a whole year despite the original 4-6 months with treatment.

She didn't want to die. She wanted to live but accepted death as a part of life. In her final moments the peace and tranquility that came over my Mom's face was breathtaking. She wanted to know her children were going to be OK. I reassured her multiple times as she began to slip away that it was OK to go.

My mother believed in the angels, in heaven and the life we will be granted after death. Her beautiful soul is finally reunited with her mother whose death she struggled with over the past 8 years and the loved ones who went before her.

As hard as it is accepting the fact that she is no longer here, I am at peace with her being my guardian angel. She promised to make her spirit present in my life and her legacy will live on through her children and whose lives she touched.


Do you need someone to talk to about grieving?
Have you considered online grief counseling?
Private, one to one, anytime, anywhere, help with grief
In the interests of transparency, this information about online grief counseling and support is sponsored by BetterHelp. When a person signs up for counseling from write-out-loud.com I receive a commission for providing the link enabling the connection.*
Grieving is a zig, zag, slip, sliding journey.
Some days it can be hard to eat, to breathe, sleep, brush your hair, get out of bed, get dressed, answer your phone, have a shower or, go to work.
Finding a reason, or the energy, to do things you once regarded as so ordinary you did them without thinking, is tough. Especially when you feel alone. 
Is this you? 
Online counseling can offer the support you need.
Despite what well-meaning friends or family might tell you there are no "right" ways to grieve. And neither are there "right" stages which everyone must pass through in a "right" sequence.
When you meet with an online grief counselor you will be understood, and carefully guided towards finding a way forward.
Just fill out the online questionnaire and within minutes you will be assigned the professional grief counselor most suitable for your needs. You don't even have to use your own name if you don't want to.
You'll pay an affordable fee set according to the length of the subscription plan you choose.
Access your counselor whenever you want via chat, messaging, video or phone.
Or find out more about

how online grief counseling works

.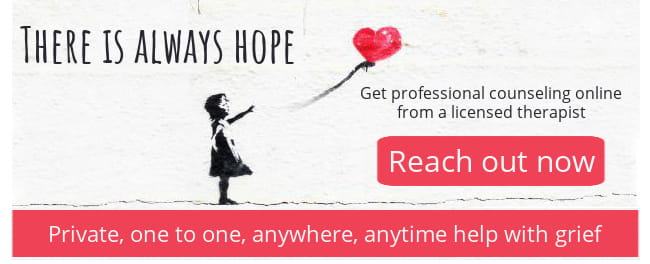 * Read independent BetterHelp customer reviews on TrustPilot.