How to end a MOH speech
How to end a maid of honor speech
20 sample maid of honor speech conclusions to help you write your own
By: Susan Dugdale | Last modified: 09-04-2022

Your best friend is getting married and her wedding day is getting closer.  You want to deliver on your promise to give  the best maid of honor speech you can: a speech the happy couple, family members and other wedding guests will be delighted to hear.
A important part of giving a memorable speech is ensuring it finishes strongly. With a bang rather than whimper!


Twenty sample endings maid of honor speeches
Here are twenty sample endings for a maid of honor speech to help you write one for yourself.
Find one you like. Take the style, take the tone and, adapt the content to make it your own.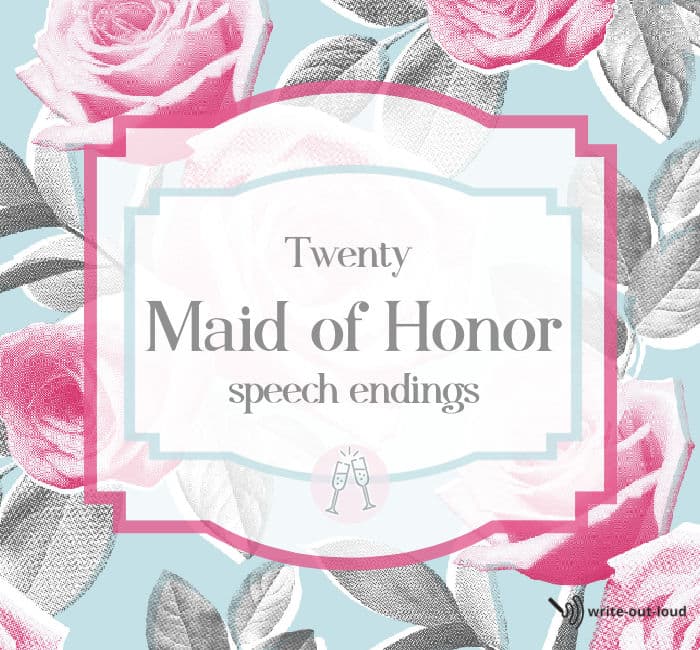 Caution: use with care
If you find an ending you want to use, adapt it to fit.
Please don't try and graft it onto a speech you've already written without checking it for tone, or content. It needs to match!

It would be strange if the ending was completely different to what had come before it: really odd and confusing for the people listening.
5 funny Maid of Honor speech conclusions
1. Don't sweat the small stuff and other advice
"Lastly there's a few bits of advice all newly weds receive. They're standard issue. 
Stay friends.
Don't sweat the small stuff.
Never go to bed angry.
I know you already know it. You've heard it before. So here's some 'not only but also' additions to make them work for you.
If you want to remain Best-Friends-Forever, always seal promises with a pinky swear.
Buy the right deodorant and you'll only perspire over the large things.
And if you eat healthily, exercise regularly, and keep a steady supply of coffee in the house, you should have no problem staying up late to fight.
Good luck and best wishes!"
2. She's always right, OK? 
"In closing, I would just like to offer a few words of advice to the…currently… happy couple.
Remember, even if she sometimes lets you feel like you are right, you're not.
Share the blanket. Always.

Most importantly, always remember, that even when he leaves the seat up for the four billionth time that someday he will be properly trained, and you, too, can be that adorable old couple.
I wish both of you a lifetime filled with love and laughter."
3. Exchanging gifts for cash 
"Everyone knows that Charlotte and Simon leave here today with armfuls of gifts and great memories.
Although memories are a good thing, nothing beats a huge pile of wedding gifts!
However, just wait until they discover they have six toasters, three blenders, four food processors and at least five sets of matching coffee mugs with hearts and flowers embossed on the front!
Oh well, the next best thing about getting all those gifts is returning them for what you really want: cash! Have fun!
Welcome to married life! We wish you every joy and happiness."
4. The naked truth
"Teresa and Bruce, now that the two of you are married, everyone will try to give you advice, unsolicited. That's the unspecified, unwritten part of getting hitched: the social contract you've just agreed to.
To get you used to it, I am going to give you my words of wisdom first. Despite not being married or a relationship expert, I think it's some of the best marriage advice I've ever heard.
If you're going to fight, do it... naked!  You'll both be laughing in next to no time at all.
Here's to you! May you have a lifetime of love, laughter and happiness!"
5. Welcome to the rest of your life
"I am reminded of something comedian Rita Rudner once said: "I love being married. It's so great to find that one special person you want to annoy for the rest of your life."
Teri and Greg, congratulations! We love that you found each  other. You're perfect together. 
May you wholeheartedly and happily 'annoy' one another for the rest of your lives!"
Return to Top
6 religious endings highlighting values and beliefs
1. Love is patience and kindness
"Love is patience and kindness. Love protects and trusts. Where there is love, there is hope, and where there is hope, love will always endure.
We are here today because you have both been blessed with love. Treasure that blessing, and remember that when you keep hope and faith close to your heart, your love is what will see you through any dark times and, lead you back into the light.
To love! To Miriam and Peter!"
2. God is the foundation of a successful marriage
"God is love. He is your rock, your shelter and the foundation on which you'll build a successful marriage.
Walk with Him everyday and you'll experience the greatest joys, and endure any storms, your lives may bring.
May God bless you both, always."
3. In marriage two becomes one
"I know this marriage is truly blessed and that it was the Spirit of God who brought Bella and Monty together.
While each of them were whole and complete by themselves, their wedding changes that. To quote Matthew 19:6: "... they are no longer two, but one."
Today we honor their holy union. Bella and Monty, may God bless you and keep you, and shine His face upon you today and every day of your lives."
4. God brought you together
"Sally and Bryan, watching the two of you today and seeing how happy you look, it is clear that God had a hand in bringing you together.
He blessed this holy union. The two of you complement each other so perfectly.
I pray God continues to bless you and grant you health, happiness and a long life together."
5. Colossians 3:12-17 – The Bible
"In closing, Marta and Henry, here's Colossians 3:12-17 from the New International Version of the Bible.
"Therefore, as God's chosen people, holy and dearly loved, clothe yourselves with compassion, kindness, humility, gentleness and patience. Bear with each other and forgive one another if any of you has a grievance against someone. Forgive as the Lord forgave you. And over all these virtues put on love, which binds them all together in perfect unity."
We wish you love, love, and more love, all the days of your lives."

6 . A Wedding Prayer by Max Lucado
"Lastly, I'd like to offer this, with my love: a beautiful poem asking for God's blessing by Pastor Max Lucado, entitled 'A Wedding Prayer'. It contains everything I wish for you both.
Would you take these two,
of dust and bone,
Born of flesh, then you,
Would you make them one?
Would you speak again
The words you spoke
When Adam slept
And Eve awoke?
Would you let your wine
Replace our water.
And look with grace
On this son, this daughter?
Oh Lord of Eden
In your majesty
Create again
Your tapestry
One heart
Where there were two.
This is the prayer
We lift to you."
Return to Top
4 Maid of honor speech endings using quotes 
1. True love stories never have endings
"The writer Richard Bach said, "True love stories never have endings."
It's also true that over the course of your lives together, there'll be days when your love story doesn't feel that infinite. In fact you'll probably think a single paragraph would be better—or maybe even something as short as a sentence!
And yet there'll be other days, like this one, when chapters: page after page, with photos, will never be enough.
What's certain is that your love story be a mix.
And like everyone here, I want to be there to watch it unfold. I believe it's a real blockbuster: one which will have season after season, without end."
2. "Love is not a matter of counting the years, but of making the years count"
"I looked for one of those special quotes: a few wise words cleverly summing up what I wanted to leave you with at the end of my speech.
I found this: "Love is not a matter of counting the years, but of making the years count" It's from Michelle Amand.
And the two of you personify that statement in every way. You love each other so wholeheartedly, making the most out of every moment you share.
I know in my heart, that you will have a beautiful, full life together, making every moment, every minute, every hour of every day, of every year count. 
I feel lucky to be a part of your lives and can't wait to see where you go from here. Thank you for including all of us in your journey."
3. You are my husband, you are my wife 
"How does one put into words the mystery of marriage? It's such a special kind of union.
I found this: an Eskimo love song which I think expresses it beautifully.
"You are my husband, you are my wife. My feet shall run because of you. My feet dance because of you. My heart shall beat because of you. And I shall love, because of you."
Marie and Mike, may your feet always run and dance. May your hearts always beat and be filled with joy because of the love you share."
4. "A successful marriage requires falling in love many times, always with the same person."
"Now that Prue and Bill are married, the true work begins. Trust us. We married ones know.
Journalist Mignon McLaughlin says "A successful marriage requires falling in love many times, always with the same person." She's right.
And after witnessing your relationship grow over the years and seeing your happiness here today, I'm sure you too, will spend every day for the rest of your lives falling in love with each other, over and over again.
Congratulations!"
Return to Top
5. Heartfelt, sincere maid of honor speech endings
1.I'll cherish the memory of being your MOH

"Molly and Jim, I think I speak for everybody when I say, we love you both and wish you a lifetime of happiness together.

For myself, I know I'm a better person for knowing you both. You have an abundance of kindness, compassion and zest for living that embraces everybody lucky enough to be part of your lives.  Which makes being your Maid of Honor Molly, a memory I'll always cherish.
Thank you for sharing this special day with us all."
2. Friendship as a foundation for marriage
"In conclusion, I am elated for the both of you. I know you were made for each other.
You have been great friends for years and that's the best, and strongest, foundation for a marriage.
I wish you all the health, happiness, and love in the world – the very best life has to offer.
It gives me great pleasure to ask everyone to raise a glass to you: the happy couple."
 3. Two halves who have found each other

"Suzi, we have known each other for many years now, through good times and bad.
You are an amazing friend to me and deserve all the happiness in the world. Which is why I am delighted to see you with someone as wonderful as Tony.
In all the time we've known each other, I've never seen you so relaxed and happy. The two of you were obviously meant to be together.
You're like two halves who have finally found each other. And from now on you're one: one very happy couple.
To Suzi and Tony!"
4. A relationship built to last
"Lisa, Jake, I truly believe you have a relationship built to last, just like our Grandma and Grandpa Smith had.
The way you are with each other, not just today but every day, signifies more to me than all the vows and rings in the world. And the wonderful thing is that your love, respect, and trust will only deepen as time goes by.
Let's raise our glasses! To Lisa and Jake, we wish you every happiness."

5.Your commitment to wedded bliss
"Mary and Frank, we know today is not the beginning of your happily ever after because you've been actively working together on your relationship for some time.
However it is super significant. Because it is the celebration of your commitment to build a lifetime of wedded bliss out of paying attention to how you live everyday.
We love that! We see how happy it makes you both, which in turn make us happy.
To Mary and Frank! Congratulations!"
Return to Top
Other resources for MOH speeches
Read an example Maid of Honor for a sister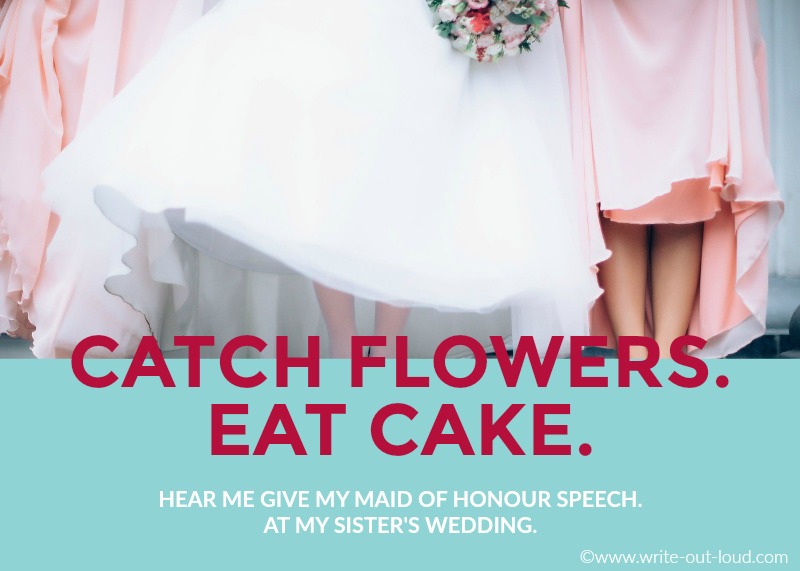 Go from preparation to delivery! This sample maid of honor speech for a sister comes with step by step guidelines and a 5 part speech outline.
2 Maid of Honor speech examples for a best friend

Read a sincere heartfelt MOH speech and a light-hearted fun Maid of Honor speech. Both are written from the point of view of the bride's best friend.
You'll also find a great list of writing prompts to help you get started on your own speech as well as a list of what NOT to include.
Quotations and readings for wedding speeches
Classic wedding poems and readings: find a segment of a poem or a quote to use
35 Wedding Blessings, Prayers, and Readings for Your Special Day
Return to Top