Maid of honor speech examples
Maid of honor speech examples
Two unique maid of honor speeches to help you prepare a perfect maid of honor speech of your own
By: Susan Dugdale | Last modified: 10-06-2023

What's the best way to share the happy couple's love story at the wedding reception on their big day?
The bride's your great friend, an amazing person. You love her to pieces which is why you said 'yes' when she asked you to speak on her wedding day.
However, maybe this is the first time you've given a maid of honor toast. Perhaps, in addition, you find public speaking, talking in front of a crowd and making eye contact as you do, a little bit nerve wracking.
You're in the right place. The goal of this article is to empower and enable you to write and deliver the best maid of honor speech you can. Begin by reading the speeches!
What's on this page
A heartfelt Maid of Honor speech example
This example is written from the point of view of a childhood friend: someone who's shared the best and most difficult of times with the bride. The friendship between them is enduring and the speech is sincerely heartfelt: full of personal stories everybody will relate to.
Said aloud, it is approximately 5- 6 minutes long. 
Maria's MOH speech at Sonja & Mark's wedding

"Some one very wise, and obviously someone who knew Sonja and Mark said, "Don't marry a person you can live with. Marry somebody you can't live without."
That's what we're witnessing today – the union of two people who belong together. A perfect match!
My name is Maria and I'm delighted to be the Maid of Honor for my very dear friend Sonja.
We've been close friends since we were little girls and, as we are hitting our 30s, it feels like forever. I can scarcely remember life without her.
Sonja and me, we've gone from crayons to perfume together, with stops in between for learning to read and write, ride a bike, play with dolls, dress up, climb trees, scrape our knees... We've done our high school homework, got into trouble for staying out late, turned 21 together… And now here we are, all grown up.
A big night these days is a glass of wine, staying in and watching Netflix together.
From the time we were 13 and had to run to escape a mad, snarling, barking dog I knew Sonja was truly there for me. I was slower than her but she did not leave me behind. And she's been there to pick me up ever since.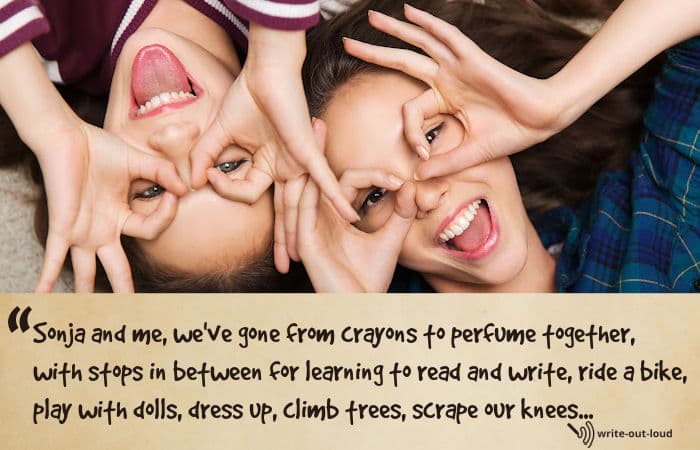 Like when I've misplaced my confidence and haven't been able to find it. (Is it under the sofa? No! Behind the kitchen door? No!)

Or when I've needed someone to talk to about a personal life situation, for instance, another crappy boyfriend.
Over the years Sonja has been my touchstone, my wise go-to sister, and although there have been times when we have been physically apart that has never been true of our hearts. She is part of my identity, of who I am.
So when she asked me to be her Maid of Honor, the honor was all mine. Naturally I said yes.
Another "yes", a previous and much more important one, is the reason we're here today.
Mark, that was one you received.
All Sonja's family members and friends, like me, take her best interests to heart. They look out for her, and I know, that like me, they are delighted that you and she have agreed to live your lives together.
Mark, your care, and love of Sonja over the last few years has demonstrated to us all you are indeed the right man, who was in the right place, at the right time. We've seen the good times you've shared together but most importantly we've also witnessed how you handled the tough ones.
You were there to shelter, cherish and nurture her through the period when her Father passed. And I know that meant everything to her. I feel certain not only he but also her brother, Matthew, would willingly give their blessing to your union from up above.
As for me, you definitely had my wholehearted approval when you asked one of my " boyfriends", (now very much past tense), aside for a man-to-man chat about respect and loyalty. From that time, I knew I have gained a brother.
In Sonja you have a hard-working, forgiving, loving big-hearted woman. As her friend, her sister, I am grateful you see, appreciate and know that.
I searched for a special gift of wisdom to pass on and found this – a recipe for love and marriage. It makes sense to me, and I hope it does to you too.
"As you walk through life together remember even though you both share many qualities that are very much the same, you are each unique, and it is your differences that helped bring you together.
Give your love openly and honestly. Always respect and accept what the other has to say, even when you do not agree. Take time to enjoy everyday and share together, and remember that each day is a new beginning."
Sonja, I am looking forward to all the celebrations we're going to have together down the years because although we no longer live on the same street, our roots are very deep.
Please make a note that I intend to speak at your 50th anniversary!
Cheers to the newly weds! Best wishes! I love you guys!"


A light hearted Maid of Honor speech example
To be successful this maid of honor speech relies heavily on its delivery.
Along with stories establishing the depth and importance of the relationship between the bride and her Maid of Honor it includes a good natured, gentle 'roast' of the groom.
The MOH has taken it upon herself to poll guests and family members on his suitability for the bride. She is now making the results public.
Although the groom is being teased we know he's respected, admired and loved by those who know the couple well, which includes the person delivering the speech, the bride's best friend.
The speech will take between 5-6 minutes to deliver.
Felicity's MOH speech at Sarah & Sam's wedding

Once in a while, in the middle of an ordinary life, love gives us a fairy tale.
That's what we're celebrating today: a story of true love, a dream come true, the union of two people who belong together.
My name is Felicity and it's my privilege to be Sarah's Maid of Honor.
Sarah is my Best Friend. I know it's a cliché. However clichés become clichés for a very good reason, because they're true. She's my BFF: Best Friend Forever.
For her I would wear the gaudiest, frothiest taffeta maid of honor dress possible and still smile. Fortunately I don't have to.
Through Sarah I've learned that being a best friend isn't a competition between those who have been in your life the longest.
Neither is it about regular daily contact.
Or about talking,
Or being under the same sky, in the same city.
Or even sharing the same tastes.
But it is definitely about sharing the same heart space.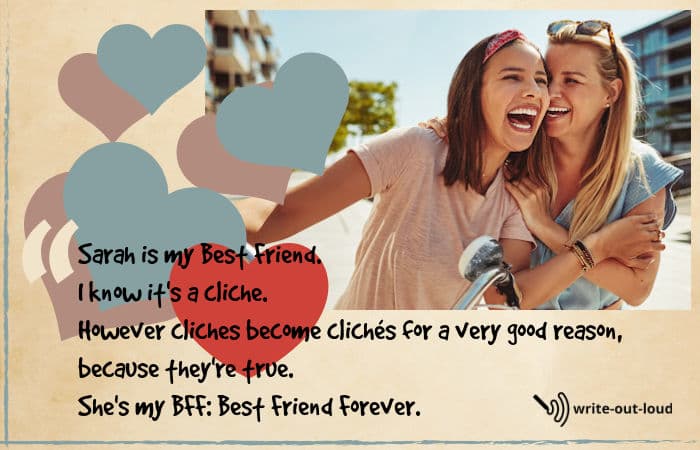 Over the years she's been my touchstone, always encouraging me to be the best of myself: a work still in progress. I look forward to checking off the score card with her when we're much, much older.

We've seen each other through all those milestones of growing up: the ones we want to remember, as well as the ones we'd prefer to forget but don't. Amongst them are memories I'll always cherish: going on a bike tour of Paris in the rain, getting completely soaked and laughing about it, gorging ourselves on gastronomic delights in Greece. And ticking off the typical tourist "when in Rome" items: walking up the Spanish Steps and tossing coins in the Trevi fountain together.
Sarah you know, and see me clearly. Just like I know and see you. And today you've changed the course of your life forever with two words: I do.
Sam, you'll have understood by now just how much this woman is loved, not just by me but by all of us here. Inevitably that means when a suitor comes along they have to pass not just one test, but multiple ones.
There's the initial hurdle, getting her on your side. Once that's safely over there's more and these, as anyone married knows, can be quite formidable.
Friends, mothers, fathers, family, don't share quite the same blinkered infatuation. We stand back. We watch, and yes, we judge.
We have a "not-so-little" check list and we want every point on it passed, with honors.
Now I'd done a comprehensive survey of the interested parties and tallied the scores. They read like this.
On the "always has her back " index you did extremely well. This one was a very important indicator. Knowledge of what it is "to have someone's back" is paramount. You passed with flying colors on the sub-set, "has spine" too.
Availability. The question behind this point had two parts, both equally weighted. Are you there for Sarah when she needs you? We looked at physically, as well as emotionally, present. Again, top marks.
Positive influence. Does this man extend and enhance the best in Sarah?
Now this one was a little trickier. Separating the vested interests and keeping ourselves honest is a challenge when so much is at stake. Change can be confronting even if it is for the better. But yes, we agreed, that Sam definitely brought Sarah more of all that is good. His presence enables her to grow.
Health. Really? Need we go there? Look at them! They eat so well, exercise so well – we're thinking of setting up a charity to donate the excess health they generate to those who need it. These two are the ultimate King and Queen of eating green. Their example inspires!
Our last was "laughter".  Does this man make this woman smile, make her laugh with joy and share her humor? Sam, no one makes Sarah laugh the way you do.
In conclusion, you are quite simply, the best. We thank you for understanding, valuing and loving her as we do.
I want to acknowledge someone else in the line up looking out for Sarah, someone very dear to her who, although not physically present, is here in our hearts: Betty, Bette, her grandmother. I'm sure she would approve too.
And now a toast. Please raise your glasses.
To Sarah and Sam, and a lifetime of love! May your happily ever after begin here.
Content suggestions for your own MOH speech
Often the hardest part of preparing a speech is getting started. These prompts will help you find the right words to say about the bride and her new husband on their special day.
Grab a piece of paper and answer the questions as quickly as you can. Let you mind go. Don't stop to edit, to check your spelling or to write full sentences. You can do all of that later.
Focus, for now, on generating ideas.
Maid of Honor speech writing prompts
When, and how, did you first meet the bride?

When did she become a close friend?

What makes her a good person?

What 3 or 4 words best describe her character?

When did you realize (the groom's name) was the love of her life? What was your first impression of him?
What hobbies or interests do they share as a couple?
What do you admire about them as a couple? What makes them unique or special?
What challenges or hardships have they faced and overcome?
What funny moment or funny stories can you share about them?
What do you want to say to wish them a happy future together? Is there a quote you'd like to use as a toast? A line from a song? A verse from a poem?  
What NOT to put into your speech
Before you go ahead in the writing process check the content you've generated.
Remove any:
stories that would embarrass the bride and anyone listening: eg. tales about past relationships, wild nights out, participating in illegal activities of any sort...
inside jokes or references that only a few people will understand
comments or stories that make yourself the principal focus of attention. The most important people are the bride and groom.
references to money or the costs involved in the wedding
critical comments about the wedding planning, the people involved with that, and any of the lead up activities
language or crudity (for instance, off-color jokes or sexual innuendo) that may offend the wedding guests
strings of clichés. For example: she's most beautiful bride in the whole wide world. The groom swept her off her feet. It was true love at first sight and now they will live happily ever after...


How to get from notes to speech
Click the link for: a 5 part maid of honor speech outline, with examples, step-by-step guidelines and a complete maid of honor speech for a sister.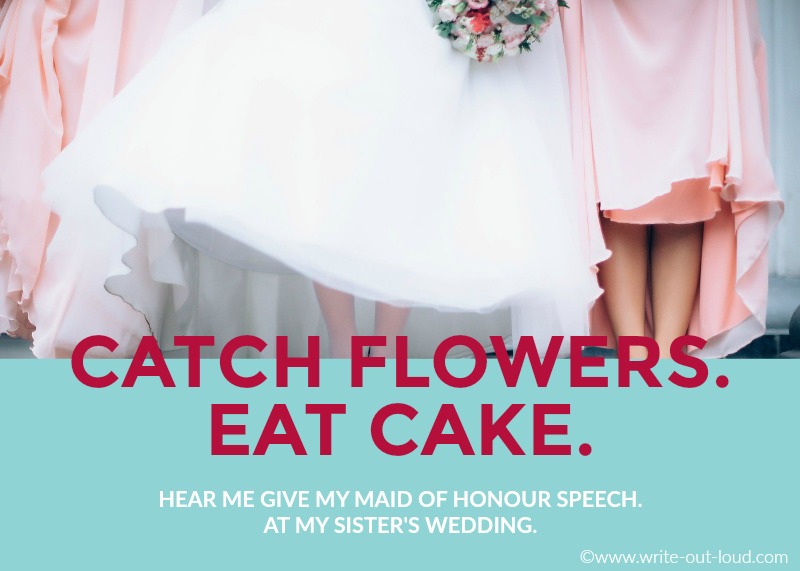 How to end a Maid of Honor speech

If you find yourself stuck, not knowing how to conclude your speech have a look here: how to end a Maid of Honor speech.
There are twenty example endings of varying types. Some are funny. Some use Biblical and other quotations and some are straight from the heart.
Find one you like, and then adapt it for your own use.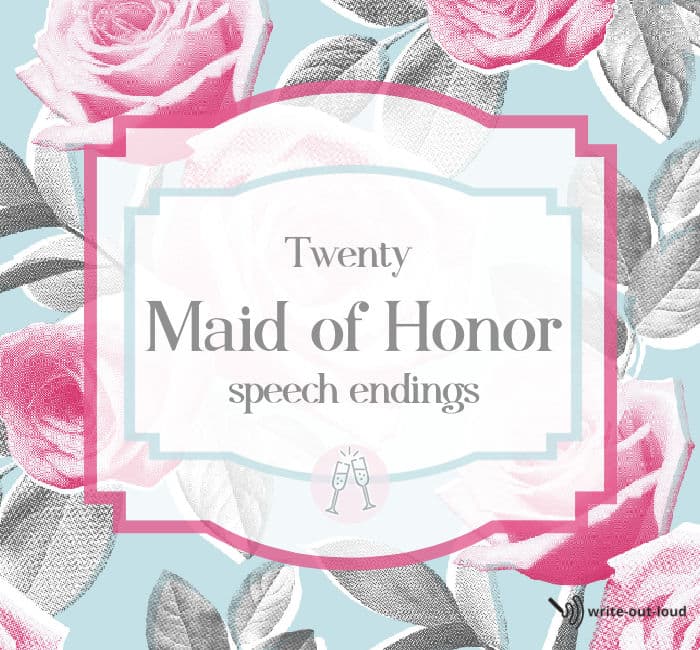 Test and rehearse your speech
It's vital to allow enough time to thoroughly test and rehearse your speech before you deliver it: that's about three weeks.
How to test your speech
Testing has two parts.
The first part is making sure the content covers all you think it should and flows easily from one segment to the next. This is where another pair of ears are very useful. Sometimes what we think we're saying and what we actually are is quite different. Get the opinion of someone whose judgment you trust.
The second part is testing your speech for timing. Set a timer and say it out loud at about the pace you would use if you were delivering it for real. Ideally you want it between 3 - 6 minutes long. If it's too long, look for places to cut it.
For more about how many words in a 3 minute, 4 minute, 5 minute, 6 minute...speech and speech rate.
Rehearse your speech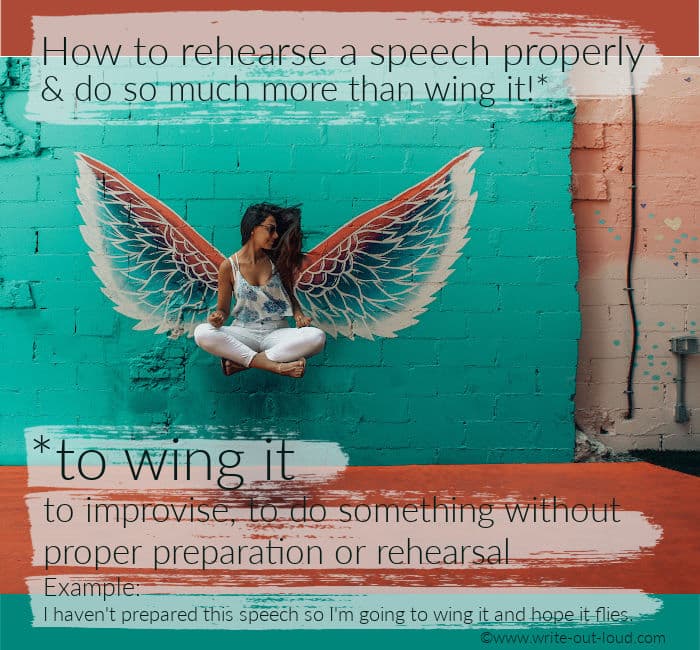 Once you have the words sorted, it's time to work on how you'll deliver them.
Delivery makes all the difference between an average, ordinary performance, and an extraordinary one. Please make the time to rehearse.
Trying to 'wing it' without preparation leaves you wide open for all sorts of unnecessary glitches to suddenly pop up and throw you sideways. Don't tempt it! How to rehearse a speech well: 7 steps to brilliance! ☺
More resources
Classic wedding poems and readings: find a segment of a poem or a quote to use