Introduction
How to write a speech introduction
12 of the best attention getters to start a speech
By: Susan Dugdale | Last modified: 01-12-2023

The audience settles in their seats. The lights dim. You walk out to the center of the stage. You pause, take a deep breath, open your mouth and begin.
What you say over the next 30 seconds to introduce your speech or presentation is crucial.
That's how much time you have to make a positive impression on your audience. In it they will decide whether or not you have anything relevant or useful to say. Those first impressions count!
So how do you write an effective speech introduction to grab and hold their attention?
Begin by finding out how to choose the right opener.
What's on this page: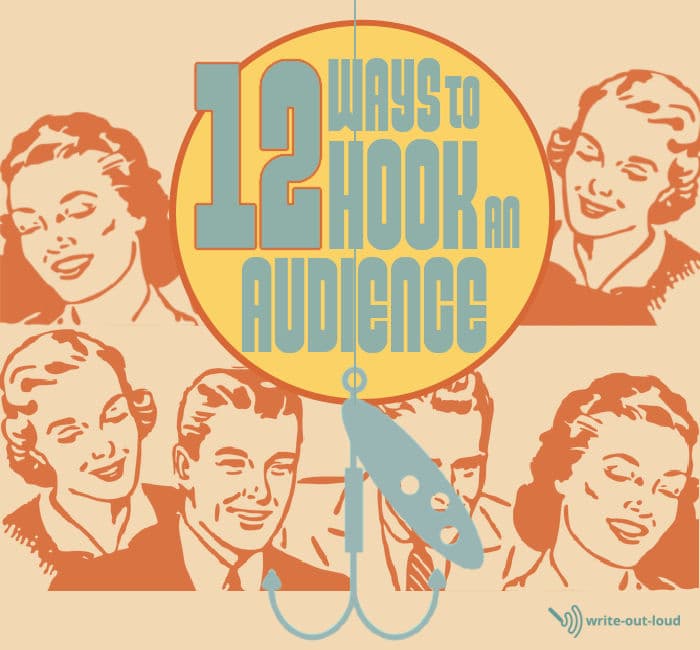 How to choose the right opener for your speech
The better way to make your choice of opener is after you have carefully considered who you are talking to and why you're talking to them.
One size does not fit all. Different audiences will respond differently. If you are giving the same speech multiple times think about what you may need to change to fit. 
To work well your opening needs to be aligned with:
the type of speech you're giving
your main purpose for giving it
your target audience and,  
their interests or needs

Both the hook* to catch their attention and your topic must be relevant to them. Unless they're a captive audience, they've come freely to listen to you and they're expecting something of value from you.
How are you going to let them know they're in the right place? Why should they listen?
What are they going to get or gain through listening?

Out of all the different ways to open, what attention getter is absolutely the best way?
The only way I know to work out what is best is to go through each of them, and as you do, consider your audience. Make a short list of those you think might work then try them out before making your final choice.
* hook – an opening statement that immediately captures the audience's attention just like a well baited hook on a fishing line catches a fish.
12 of the very best ways to start a speech
1. Use imagination to create mind pictures

Ask the audience to use their imagination. Get them to build evocative compelling images in their minds. Make them large. Add vibrant color, sound and movement.
For example:
"Let's take a break. Make yourself comfortable. Now close your eyes for a moment. Take a deep breath, and you're there, in the place where you feel the most at ease, the place where all the tensions, all the demands of your normal everyday life disappear. Look around you. See it. Feel it. It's so good, it's perfect."
"Close your eyes. Take a deep breath and a moment to picture in your mind the people dearest to you, the people you feel you could not live without. Now when did you talk to them, or spend real time with them last?"
2. Use an item to build a connection 

Choose an image or an object related to your speech, for instance a pair of shoes, to trigger interest and build a connection.
For example, if I were giving a speech on the lives of upper-middle class 19th century women I could open by holding up a pair of ornately decorated kid leather pumps.
"What's the name of the young woman who wore these? Listen. Can you hear the rustle of her silk skirts? And hear her heart beat bom-biddy-bom as the beau of the ball stepped her way? Would he, or wouldn't he ask her to dance?"
3. Ask a 'What if...?' rhetorical question
'What if...?' invites an audience to consider the possibilities of something becoming real. They can be positive somethings or negative, trivial or something that would have a significant impact if it came to pass.
The power of a 'what if...?' rhetorical question as an opener lies in the potency of the images and feelings it triggers. A well-chosen 'what if...?' will immediately have an audience wanting to hear the rest of your speech.
For example:
"What if we don't find a way to successfully manage climate change?"


"What if we really did solve the affordable housing crisis?"


"What if questions of race and color ceased to matter?"


"What if medicines were freely available to everybody who needed them?"


"What if the person sitting next to you turned, looked into your eyes and said they loved you? Truly. Madly. Deeply."
4. Try a quotation from someone who's impacted your life in some way
To be effective a quotation doesn't have to be the clever quip or snippet of enduring wisdom: a famous quote from a well known person. It's origin could be personal, something someone important in your life said that's remained with you.
For example, my Mother answered all initial wails of outrage, pain or hurt from any of her five children with a command. "Breathe!" That was repeated, interwoven with encouraging asides, until whoever it was, was able to talk clearly and be understood.  "It's OK.", she'd say. "Breathe. Come on. You can do it. Breathe. That's it. Keep going. Good."
Or I could use this line from one of my high school reports which read, "...with further maturity she should do well." (Thank you Mr Phillips. Your prediction was right on target.) 
Or this from our son aged four as he watched me getting ready for another day of teaching: "When I grow up I'm going to wear pretty dresses and go to school just like you."
5. Use an interesting key fact
Choose an interesting key fact as an attention getting device: one of the most rarely known, or a shocking statistic from the body of your speech to open with.
For example:
"Take a guess at what the most powerful and frequently used word is in the English language? 
It's not one of those usually thought of candidates.  Love? No. Money? Nope. Neither is it  any member of your family... Mum, Dad, brother, sister, son, or daughter.
It's a three letter word, so common it's overlooked and taken for granted. 'The'. It's the humble 'the'."
(For more see this BBC article: Is this the most powerful word in the English language?
Or:
"Between 2020/21 and 2021/2022, Americans consumed about 11 million metric tons of sugar, up from about 10 million metric tons in 2009/2010. Can you even begin to imagine the size of that sweet white mountain?"
(For more see: US sugar consumption statistics)
6. Share personal stories
Share a personal story related to your specific topic as the beginning of a speech. Done well, it lets the audience know you understand their situation and helps establish your credibility: your right to talk on the subject.
As an example here's the opening of a speech I gave about the impact of suicide on families and friends:
"One fine Spring day I biked home from school and found a policemen guarding our backdoor. Through it came sounds I'll never forget: my quiet Mother screaming. He said, "You can't go in."
I kicked him in the shins and did. It was the 15th of September, three days before my thirteenth birthday and my father was dead. Killed by his own hand. Suicide."
(If you want to find out more about the speech and read it, it's here: After they're gone. It's an example persuasive speech using the five steps of Monroe's Motivated Sequence.)
7. Rhetorical questions
These are questions that although they are asked, they're never really intended to be answered by anyone other than the person asking them.* Their principal function is to act as a segue, or lead in, to what the person intends to say next. For instance, the first main point of your introduction.
Examples:
"What if I were to say to you that there was no such thing as public speaking fear?"
"What do you think the main benefits of being able to speak up in public are?"
*Although there's bound to be someone in your audience who will. Be ready for them, and move on.
8. An empathetic question, aligning yourself with the audience and eliciting a response
These questions bring speaker and audience together, establishing a common ground, a mutual understanding, which is an effective way to ease into a speech. If your question 'works' you'll see heads nodding in agreement.
Examples:
"Have you ever experienced the butterflies in your stomach turning into a herd of rampaging elephants, just before you step up to give your presentation?"


"Have you ever wanted a good day to never end?"


"How often have you 'lost' your car in the supermarket car park?"


"How often have you ever wanted to shout, NO? You want me to prepare a new presentation by tomorrow? NO. You want me to stay late, again? NO."
9. It's in the news
Take headlines from what's trending in media you know the audience will be familiar with and see.
Using those that relate to your speech topic as the opening of your speech is a good way to grab the attention of the audience. It shows how relevant and up-to-the-minute the topic is.
For example:
"'Death toll soars to 76 in Florida after Hurricane Ian demolished entire communities.'
'Noru became a super typhoon in 6 hours. Scientists say powerful storms are becoming harder to forecast.'
'Hurricane Orlene strengthens into Category 4 storm as it heads toward western Mexico.'
Three front page headlines from CNN just today. Climate change. Let's do what we can."
10. This day in history
If you're giving a speech to celebrate a special birthday or an anniversary, consider using several carefully selected events that occurred on the same day as a speech opening. They could be either funny or serious, depending on the specific purpose of your speech. They're a great way to place the person in a much wider context and often with exalted company.
For example:
"What do the 1863 National Thanksgiving Day proclamation by President Abraham Lincoln, National Boyfriend Day, and Gwen Stefani have in common with Joe?
Yes, the 3rd of October! It's a great date made better by being Joe's birthday. And we say Gwen is truly privileged to have the same one as him."

11. Issue a challenge
Let the audience know first thing, at the beginning of the speech, what action you expect they'll be able to take by the time your presentation is complete. Then when you come to the final points, repeat the call to action, or challenge, as part of your closing statement.
For example:
"I've a challenge for you. That's to sign up for our public speaking course. Right now you may not see yourself doing that. Public speaking? Me? I'd rather have a root canal done, without painkillers. However, by the end of the presentation...well, let's see. There's a first time for everything!"
12. Shock
Use a startling statement, a fact, or a series of facts, to jolt the audience into paying attention.
For example:
"Covid. We've had 1.06 million of us die in the US, so far. Today there are nearly 60,00 new cases. More mothers, fathers, friends, colleagues, children – people. People ill. People who might die. So why have we stopped wearing masks?"
For more: Google: Covid stats US
Other speech writing resources