Eulogy to a Dear One
by Ogbebor Eugene
(Warri, Nigeria)
Sister Monica
We say that the hour of death cannot be forecast, but when we say this we imagine that hour as placed in an obscure and distant future. It never occurs to us that it has any connection with the day already begun or that death could arrive this same afternoon, this afternoon which is so certain and which has every hour filled in advance.
Monica, we used to call her "Sister". She was a sister, friend, and a warrior in and out.
I am confident that Monica is now with our creator. She will be in our hearts forever. I thank you Sister Monica that I became part of your life's journey. We will always be proud of you.
Eugene Ogbebor, Monica's brother says about his eulogy:

"Monica was my sister, our parent's first child. We lost our mother when I was barely two years old and Sister Monica as we always called her, took over the role of a mother, mentor and a friend. She was always there when ever you needed her.
Her death came as a big shock to all of us. She was sick for just few hours and she went to see her doctor. I actually drove her there and the next thing we knew was that her condition has deteriorated.
The whole episode happened in less than 24 hours. We're still recovering from the shock of her death."
Do you need someone to talk to about grieving?
Have you considered online grief counseling?
Private, one to one, anytime, anywhere, help with grief
In the interests of transparency, this information about online grief counseling and support is sponsored by BetterHelp. When a person signs up for counseling from write-out-loud.com I receive a commission for providing the link enabling the connection.*
Grieving is a zig, zag, slip, sliding journey.
Some days it can be hard to eat, to breathe, sleep, brush your hair, get out of bed, get dressed, answer your phone, have a shower or, go to work.
Finding a reason, or the energy, to do things you once regarded as so ordinary you did them without thinking, is tough. Especially when you feel alone. 
Is this you? 
Online counseling can offer the support you need.
Despite what well-meaning friends or family might tell you there are no "right" ways to grieve. And neither are there "right" stages which everyone must pass through in a "right" sequence.
When you meet with an online grief counselor you will be understood, and carefully guided towards finding a way forward.
Just fill out the online questionnaire and within minutes you will be assigned the professional grief counselor most suitable for your needs. You don't even have to use your own name if you don't want to.
You'll pay an affordable fee set according to the length of the subscription plan you choose.
Access your counselor whenever you want via chat, messaging, video or phone.
Or find out more about

how online grief counseling works

.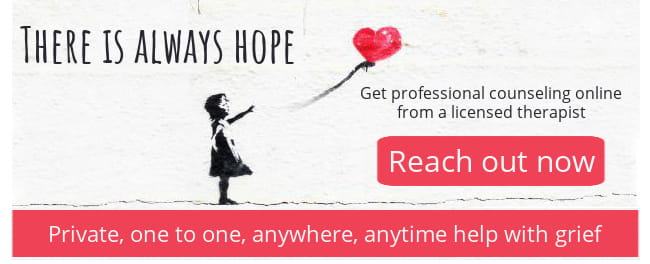 * Read independent BetterHelp customer reviews on TrustPilot.